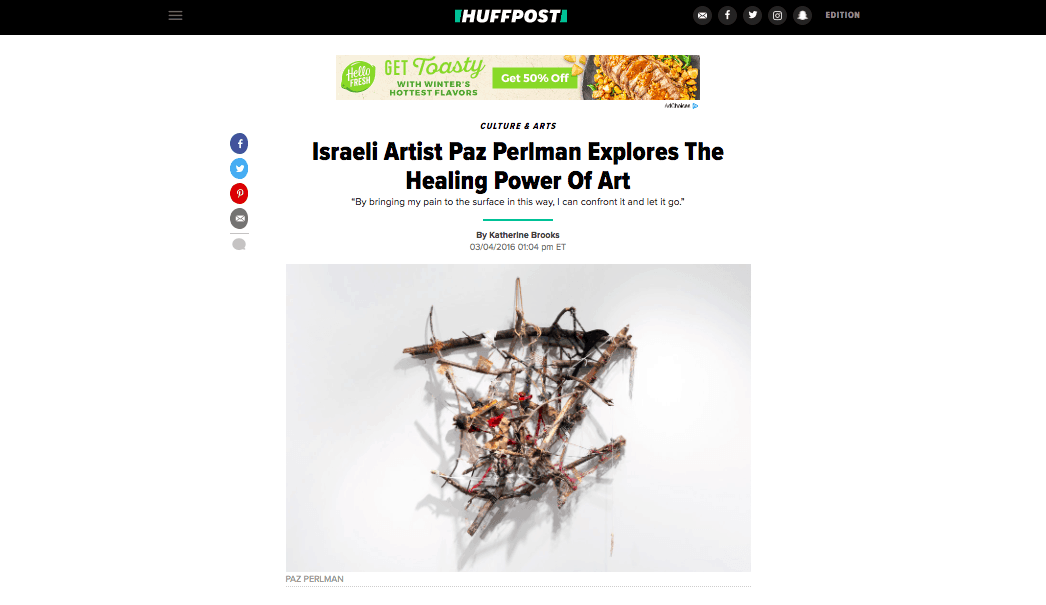 "In order to liberate myself from the past, I have to reconstruct it, ponder about it, make a statue out of it and get rid of it through making sculpture," Louise Bourgeo is famously declared, "I'm able to forget it afterwards. I have paid my debt to the past and I am liberated."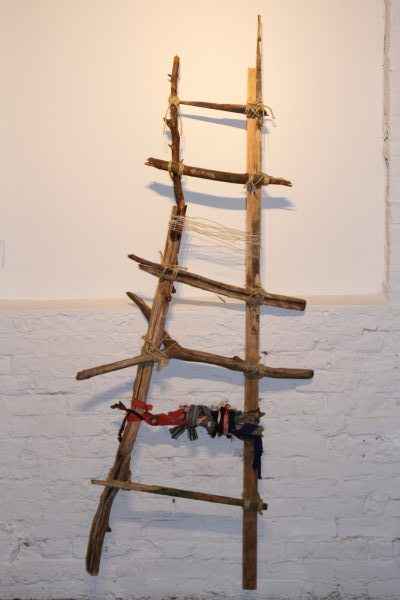 For Paz Perlman, a conceptual artist born in Israel and based in New York City, Bourgeois' words constitute amythos to live by.
Perlman's multimedia sculptures and bricolage, often grid-like tapestries of found twigs, fabric, and otherwise unwanted detritus, are born of a desire to piece together history.
Not just her history, but a blanket of past trauma and pain that's wound its way in and out of Perlman's life.
Paz Perlman's Timeline
Growing up in Israel, the artist experienced early on the weight of collective memory. Throughout her childhood, she remained acutely aware of the lingering indignity of the Holocaust and how the immense tragedy submerged itself in her Jewish roots.
She and her family lived in shelters throughout the War of Attrition in 1967 and the Yom Kippur War in 1973. Her timeline is punctuated by shared experiences like these, fracturing the memories she has of her own life. Today, she lives with a slippery desire to piece it all together; to weave together a story that she can ponder and let go.
Exhibitions & Style
Perlman's work is currently on view at Proto Gallery in New Jersey, in a group show titled "Beautiful Liars." The exhibition presents memory as a battleground, exploring the real and imagined aspects of history through the work of six women artists.
Like Perlman's pieces, the art on display mines shared experiences, some not even witnessed by the artists themselves, illuminating the value of stitching together disparate stories to uncover some kind of truth.
In one alcove of the gallery, Perlman's delicate paper works hang in a horizontal line across a far wall. Composed of a wild array of found objects, the two- and three-dimensional rectangles appear like portals into dark, forgotten moments.
Embellished with metallic paint, red thread, swirls of cotton and plastic — the pieces don't reflect a cohesive narrative; rather, they mimic the ways repressed stories can flutter in and out of consciousness. Perlman tethers the moments together, though, connecting the fragile pieces with one thin, consistent line.
"Making art allows me to get intimate with what I have repressed in my unconscious,"
Perlman explained.
"This void is inexpressible through words alone. My artistic practice allows me to bypass my rational mind and reach directly into the unseen."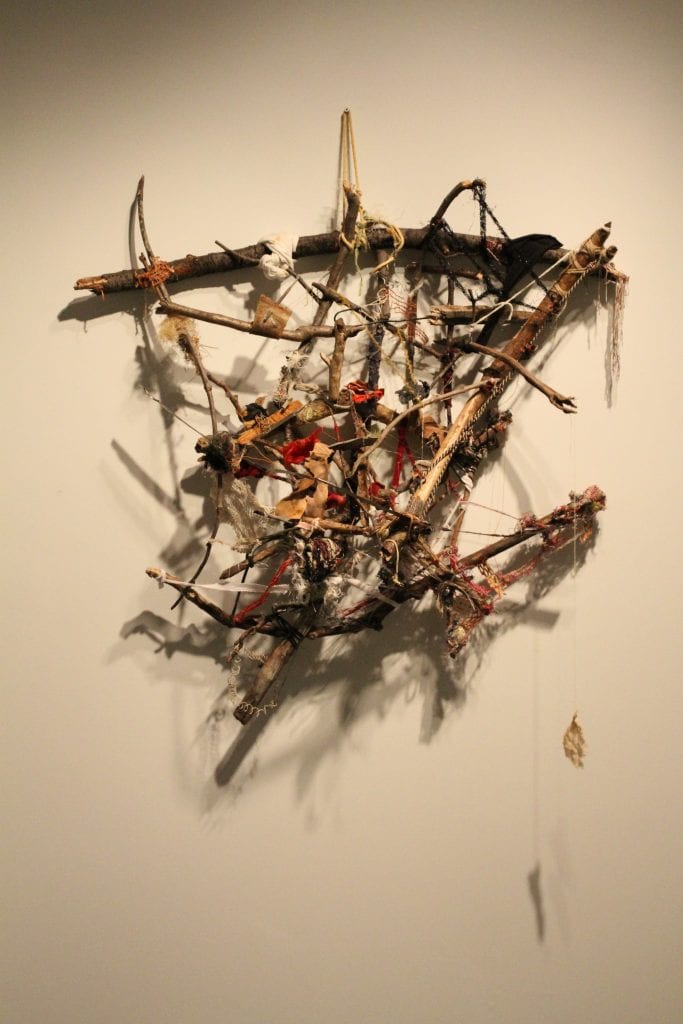 Migration
Like her memories, Perlman's own identity has been fractured by migration. She left her home country at the age of 19 to spend a year in India in an Ashram, returning to Israel to join a dance academy.
Soon after, she moved to Los Angeles, Calif., to train in Tai Chi, before moving to Amsterdam where she lived for 15 years as an artist and instructor. For 10 years after that, she lived and studied art in the United Kingdom, graduating from Central St Martins, University of Arts London.
Finally, she landed in New York in 2015.
To create works like "Middle Way," two twin sculptures made from wood, sticks, fabric and paper, hung purposefully by "Beautiful Liars" curator Molly Merson below a window at Proto Gallery, Perlman scours parks and sidewalks in NYC for materials.
She rarely has a plan for her installations, instead, she composes pieces like "Taking Refuge" and "Passage" at the moment. For her, the process — one of acknowledging the past value of her found objects and glueing them together anew — takes precedence over the end result.
In the end, Perlman transforms her paper and plastic into vulnerable works, objects that are physically held together by the weakest of threads.
Results
The shaky results itch away at an obsession Perlman revisits frequently: a preoccupation with impermanence. She cites Thich Nhat Hanh when speaking of change and transcendence, who wrote: "Impermanence means being transformed at every moment.
His is reality. And since there is nothing that is unchanging, how can there be a permanent self, a separate self? … Our body is impermanent, our emotions are impermanent and our perceptions are impermanent."
The most overtly hopeful of her pieces at Proto Gallery are two hanging sculptures, dubbed "Tree of Life 1 and 2." Built of wire and charcoal, the minimalist works cast four-pronged shadows on the white wall behind them, stretching a viewer's eye from their cross-like tips to their dark, anchored bottoms.
Together, the trees appear like totems of the past, small relics that Perlman, like Bourgeois, can cast aside in liberation.
"By bringing my pain to the surface in this way, I can confront it and let it go," Perlman concludes. "I have found this to be the most effective pathway to healing and transformation."
"Beautiful Liars," featuring the work of Paz Perlman, Suzanne Goldenberg, Tatiana Istomina, Katerina Marcelja, Lynn Umlauf and Florencia Walfisch, will be on view at Proto Gallery until March 20, 2016.