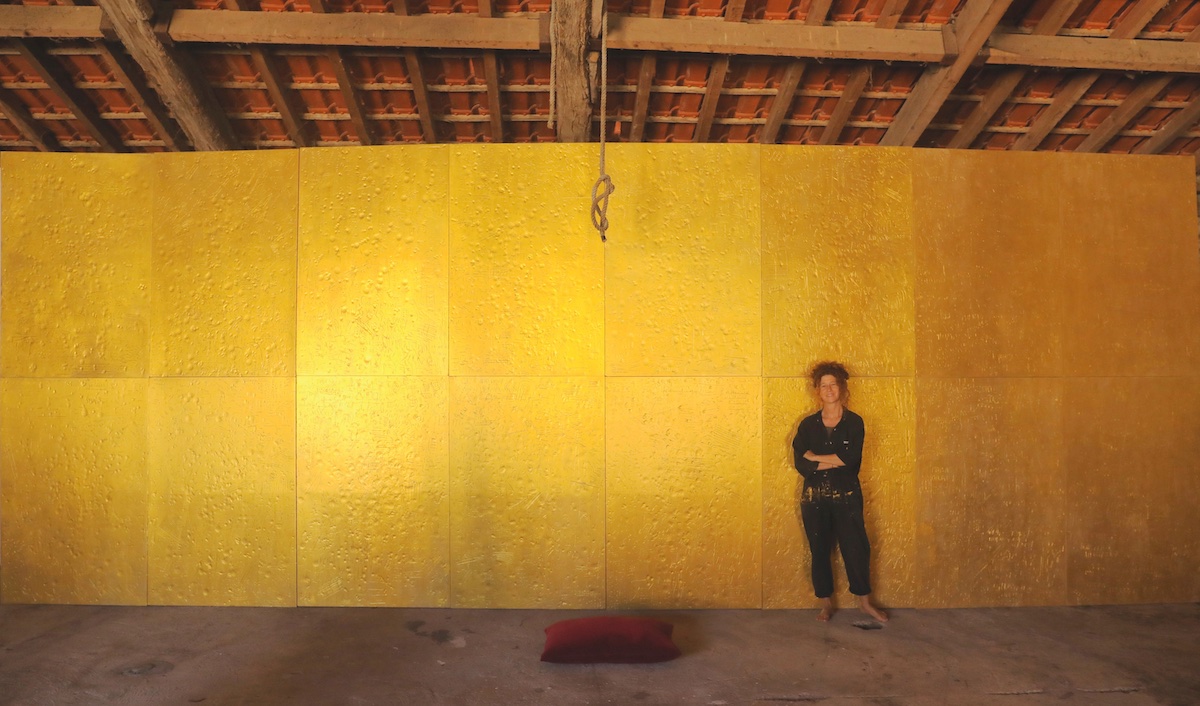 STATEMENT
I grapple with feelings, urges and fragments of memories within the unconscious, allowing them to surface through my art.
Questions arise around identity and my relationship to impermanence, healing and transformation; issues that lie at the heart of my three decades study and practice of Zen Buddhism and Taoist philosophy. 
My practice is to keep open to getting intimate with the void, both as a metaphoric black hole of the unknown as well as exploring it as a space of  infinite potential.
I work intuitively, recognizing and responding to direct experiences as they emerge. This chance methodology allows me to explore, to be surprised and to be free. This raw experimental process is expressed via a broad range of methods and media. 
I am particularly attracted to discarded materials which I unravel, penetrate and break into their core elements, to free them from their conventional meaning so that a new thought can be created.
While the finished works can appear diverse, they are linked through cultural and personal references. The foundation of them all is a yearning to convey the inexpressible and the fragile transient beauty of our existence.
Putting emphasis on the process rather than the end result, the works are more of a question mark than a statement, allowing the viewer to be part of my quest.
BIO
Paz Perlman's early life was shaped by war, loss and migration. This has created an urge, through her works, to heal the space where time and events leave their traces and scars; a fragile and unfolding process of discovery.
A media profile in the HuffPost said that "Perlman's multimedia sculptures and bricolage…..are born of a desire to piece together history. Not just her history, but a blanket of past trauma and pain that's wound its way in and out of Perlman's life."
Paz's artistic practice is influenced by her spiritual quest. She left Israel, her home country, at the age of 19 to spend a year in an Indian Ashram before moving to Los Angeles to train in Tai Chi and has studied with Buddhist masters in various traditions for the past three decades. She is a member of the Order of Interbeing in the lineage of the world-renowned Zen master Thich Nhat Hanh.
Paz began her career as a dancer and changed direction to become a visual artist with an initial emphasis on representational and abstract sculpture using traditional methods and materials such as carving stone and casting bronze.
Fifteen years ago, a radical change in her artistic practice transformed her subject matter and process, resulting in works that express fragility and impermanence, represented in installations, collages, painting and prints using a broad range of mixed media and found objects.
Currently, Perelman is integrating the existential challenges faced by the climate emergency into her work.
Perlman trained initially at the Beeldhoudenschool art school in Amsterdam and after moving to the UK, completed a two year course at the Art Academy, London, before graduating with a BA in Fine Arts from Central St Martins, University of Arts, London.
Paz moved to New York, opening a studio in 2015 and exhibiting in a number of group and solo shows in galleries in the city, as well as continuing to show internationally. Her work is held in public and private collections in the US and Europe.
In 2020 she moved to live next door to the Plum Village Zen monastery of Thich Nhat Hanh, where she works from her studio, converted from an old winery.
.